Where Strategy Meets Reality
International business is complex.
Opportunities and risks abound.
TerraFirma Strategy helps companies navigate these waters and thrive in international markets.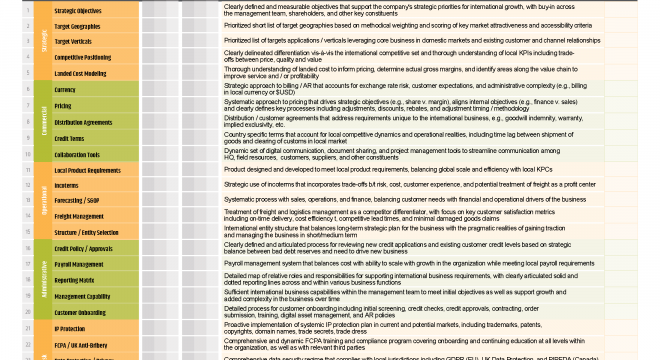 Core Capabilities Checklist
There are dozens of functional capabilities just about every business, regardless of sector, needs to consider when doing business overseas - the foundation required to actually bring good strategic thinking to fruition. The TerraFirma Core Capabilities Checklist highlights 25 of these key requirements, taken from our planning model of 200+ drivers / inhibitors of international growth.
featured resources
Need to research countries for possible expansion? Tariff rates? Find a trade partner? Decades of experience in international growth strategies have allowed us to compile a vast number of on-line resources. Here are a few that are particularly useful. Click below for free access TerraFirma's extended directory - organized in a streamlined, user friendly manner.