Fun with Incoterms
What they are and how to use them to your advantage
If you're doing business internationally, regardless of your function within the organization, you need to understand Incoterms. Not only do they define your level of responsibility relative to the buyer in international transactions, but if viewed strategically, the right Incoterm can be a source of competitive advantage, customer satisfaction, and even margin improvement.
OK great, I've heard the term but what are they? Incoterms are a set of pre-defined commercial terms (not laws) developed by the International Chamber of Commerce and updated every 10 years. We're currently near the end of Incoterms 2010, the 8th set. In short, they were developed to standardize and clearly define each party's responsibilities in international commercial transactions, specifically the costs, risks and business processing duties in delivery from Buyer to Seller (note that delivery here means transfer of goods, not necessarily when and where title changes hands).
More specifically, Incoterms define who owns risk, actions, and financial responsibility along the continuum of getting goods from point A (Seller) to point B (Buyer).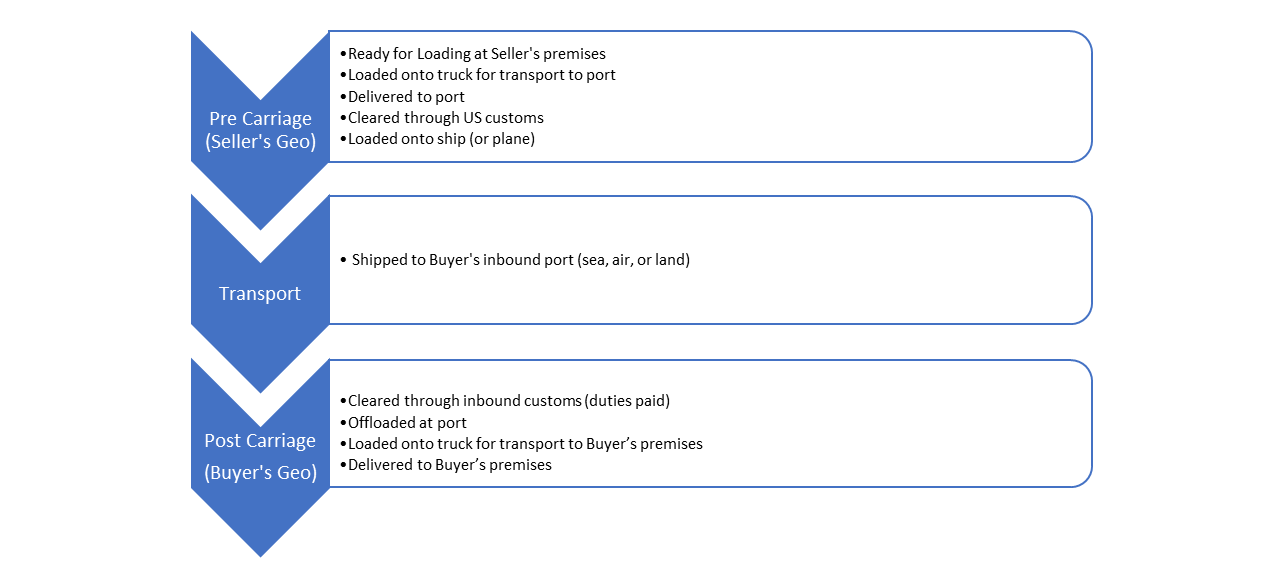 Incoterms 2010 is boiled down to 11 rules (from 13 in Incoterms 2000), represented by distinct three-digit codes. Seven apply to any mode of transportation, the remaining 4 only to transportation by water (as defined below). While not legal standards, Incoterms are now nearly universal in international trade and required for US custom documentation, commonly used in sales agreements, and are considered standard language when dealing with just about any party along the supply chain.
Summary of Incoterms 2010:
EXW (Ex Works) – One of the simplest Incoterms, here the Seller makes goods available at its location; Buyer arranges for everything from pick-up on, including cost and freight management.
F Terms – "Delivery" of goods consummated at some point on Seller's territory
FCA (Free Carrier) – Seller delivers goods cleared for export at a pre-determined location. This location can be the Seller's own facility – similar to Ex Works but the Seller loads the goods onto Buyer's truck (common practice anyway). However, FCA can also mean that goods are delivered by the Seller to Buyer's chosen place of delivery. Buyer is responsible for unloading and re-loading if delivered to a facility outside of Seller's control.
FAS (Free Alongside Ship). Relates only to transactions involving sea/ waterway. Seller's responsibility includes all steps up to the point when goods are loaded onto vessel, including delivery to terminal and customs formalities, but not including loading onto ship (Buyer's responsibility). Usually used (vs. FOB) when goods require special handling.
FOB (Free on Board) – very common Incoterm, also applies to sea/ waterway only. Seller is responsible for everything including loading onto ship. Note: Buyer cannot take possession until the bill of lading is surrendered. Seller must also arrange for export clearance. Buyer is responsible for cost of freight and all costs / activities thereafter.
C terms – Seller's responsibilities include all F-terms, plus cost of freight
CFR (Cost and Freight) – Seller delivers and covers all cost, including freight, up to a named port of destination. Applicable to transactions involving sea/waterway only. Risk transfers to Buyer when goods are loaded onto ship. Buyer is responsible for insurance, inbound customs, post carriage, etc.
CIF – Broadly similar to CFR but Seller is responsible for obtaining insurance while goods are in transit to named port of destination. Applicable to transactions involving sea/waterway only.
CPT (Carriage Paid To) – Essentially CFR but for non-containerized sea freight.
CIP – Essentially CPT, but like CIF, Seller is required to obtain insurance for goods while in transit.
D Terms – Delivery of goods is consummated at some point on Buyer's territory
DAT (Delivered at Terminal) – Seller delivers goods, unloaded, at the named terminal. Includes all costs and risks up to that particular point. All charges after unloading are the responsibility of Buyer, however, Seller is generally responsible for any delay / demurrage charges at destination terminal.
DAP (Delivered at Place) – Seller is responsible for all costs/responsibilities of DAT plus delivery to Buyer's named destination, excluding customs costs and responsibilities at destination port, which remain the Buyer's responsibility.
DDP (Delivered Duty Paid) – Essentially "door to door" delivery. Seller is responsible for all costs and risks including clearing customs in destination port, payment of duties, required documents, etc. Buyer has no risk or responsibility until goods are delivered (with the exception of unloading at named place of destination). Note: highest risk to Seller, use with extreme caution!
Summary Table
Below is summary in broad terms of who owns what at each stage in the process for each Incoterm. Please note that Incoterms in bold are for sea freight only.

Using Incoterms Strategically
Oftentimes Incoterms are an afterthought in international transactions, but if used strategically, they can be a powerful tool to achieve key business objectives. Your situation will obviously be unique, but here are a few general examples of how to think about Incoterms in a more strategic context:  

A few final thoughts related to Incoterms:
1. Incoterms state when risk in goods passes from Seller to Buyer, but not title, which must be addressed separately
2. Incoterms are not a substitute for a commercial agreement covering issues such as price, termination, territories, governing law, payment terms, etc.
3. Relative capabilities need to be taken into account when determining the right Incoterm to use. E.g., getting product through customs in a foreign country is usually better left to your partner.
4. Always clearly specify which Incoterm and edition is being used, e.g., [Incoterm, delivery point]Incoterms® 2010
5. With the exception of CIF and CIP, Incoterms are generally silent on the matter of insurance, assuming that insurance moves with relative cargo responsibility based on the Incoterm being used. Ensure insurance terms are clearly defined before product is shipped.
6. Be sure you understand all fees and charges along the way from various parties, e.g., some carriers absorb terminal handling charges while others do not
7. Incoterms are complicated, when in doubt, seek guidance from a professional.
Don't miss our next Insight!
No sales here - just relevant news, ideas, tools, and resources